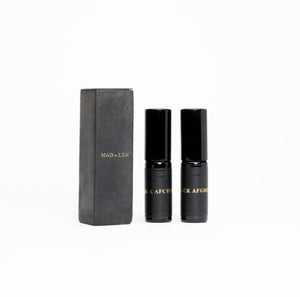 Mad et Len believe that each one of our differences can make a difference...beauty is as diverse as there are humans on earth. They believe perfume transcends our emotions, which is why we need to carefully choose the right paths.
Only natural ingredients are used.
CONTENTS: alcohol, perfume
CONTAINER: Set of two 10mL black glass spray bottles with gold leaf applique branding on black label. One outer iron box included.
CONTAINER SIZE: 3cm x 3cm x 10.5cm
All Mad et Len products are vegan, cruelty-free, handcrafted, made in France.