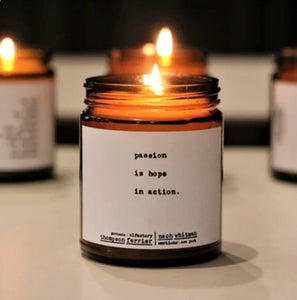 "Passion is hope in action"
This poetry collection is a collaboration between Thompson Ferrier & NYC poet/artist Zach Whitman. Zach's work has been featured around the world & is now available to you in raw form in this Myrrh Redwood scented candle.
These candles are handmade in NYC with perfumed essential oils, a proprietary soy wax blend & a lead-free cotton wich which ensures a clean burn.
Burn time: 60-80 hours
Fragrance notes: Myrrh Redwood: Tonka Bean, Copal Resin, Frankincese, Myrrh Resin, Smoky Redwood. Fiery Incese.