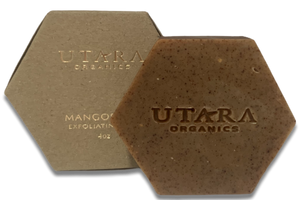 If you have hypersensitive skin, this gentle cleansing bar is the answer to your prayers. Formulated with nourishing organic oils, active botanicals and soothing essential oils that infuse your skin with moisture while you cleanse, it's the perfect solution for washing skin prone to acne, eczema, psoriasis, and other sensitive skin conditions. 4 oz 
 Key Benefits:
Cleanses sensitive skin without dryness

Soothes redness and inflammation

Nourishes and moisturizes the skin

Reinforces the skin's natural protective barrier
A gentle exfoliating bar soap which provides a simple solution for problem skin. A one-step cleanser for face and body that combats acne, psoriasis and eczema.
*the safety of this product has not been substantiated